Coalitie Woonopstand stands in solidarity with Extinction Rebellion in the fight for a just future and disapproves of the harsh intervention of the police and the use of water cannons during the demonstration last Saturday, March 11. 
The housing movement stands behind the peaceful actions of Extinction Rebellion (XR) and their fight for a just future for all living beings on this planet. The climate crisis is inextricably linked to the housing, energy, health and poverty crises, all of which are the result of colonialism and the current racist capitalist system.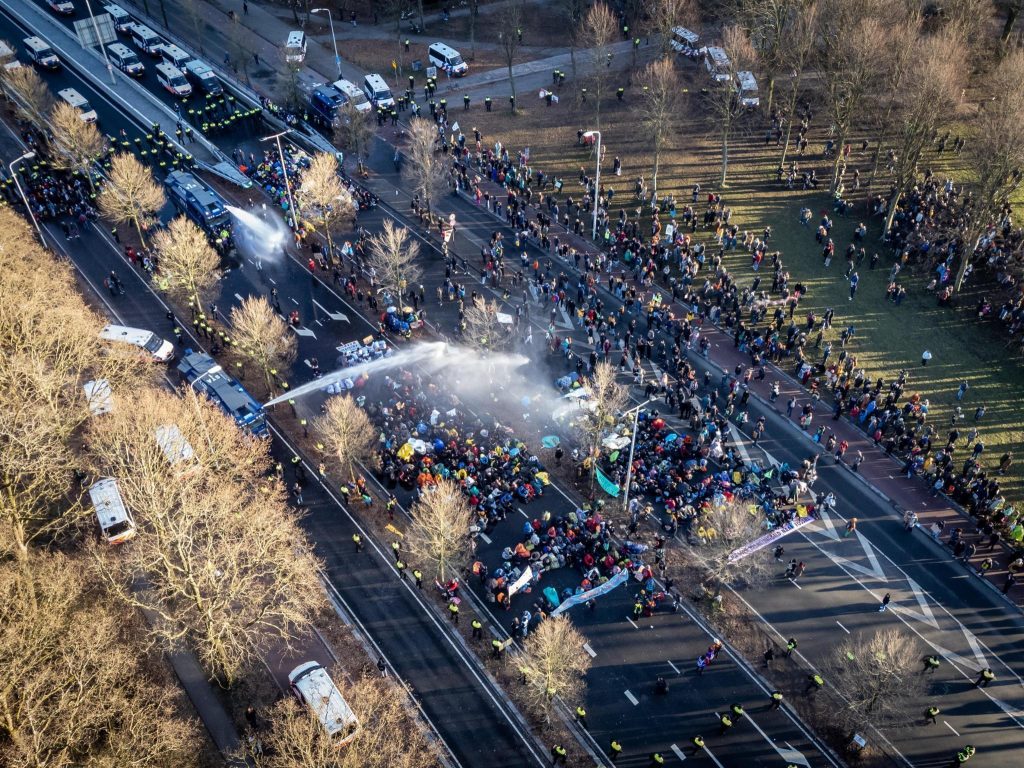 Demonstration right at stake
As people, we have the right to demonstrate peacefully against this unjust system and to speak up on issues that affect us all, such as the climate and housing. It is unacceptable that activists and organizers in both the climate and housing movements are intimidated by the government. It is scandalous that home visits by police officers to activists and organizers have become completely normal. It also recently appeared from research by Trouw, Investico and De Groene Amsterdammer ​​​​​​​that the police request large amounts of data from activists and their relatives. These intimidation tactics sow fear and clearly aim to reduce the willingness to act. That set-up will never succeed, and we can see that in the growing turnout and solidarity for XR's actions! We call on the government and the police to stop this intimidation and instead facilitate demonstrations, protect the right to demonstrate and freedom of expression! 
Last Saturday's police action in The Hague has great similarities with the actions of the police at the Housing Revolt demonstration in Rotterdam and the Housing Protest in Amsterdam. You can read how the police dealt with peaceful demonstrators on the Erasmus Bridge on 17 October 2021 in our black book. Even then, the armed arm of the government opted for escalation and violence. The questions we asked about this action have still not been answered and any form of critical self-reflection is missing within the Rotterdam triangle. 
As a national housing movement Woonopstand, we remain in solidarity with XR and condemn the intimidations, preventive arrests and violence against peaceful demonstrators and call on everyone to continue to work for a just climate and housing policy!
Solidarity greeting on behalf of the housing movement