During the Housing protest in Amsterdam yesterday, people gathered en masse to protest against the current neoliberal housing policy. According to the municipality of Amsterdam, more than 15,000 people were present.
At the end of this demonstration, a group of demonstrators tried to break into two buildings in the Gravenstraat. This was followed by extreme police brutality, in which several people were beaten to bleeding and dragged across the street. During the demonstration there was a remarkable amount of support for squatting, also from the podium there were several calls for this.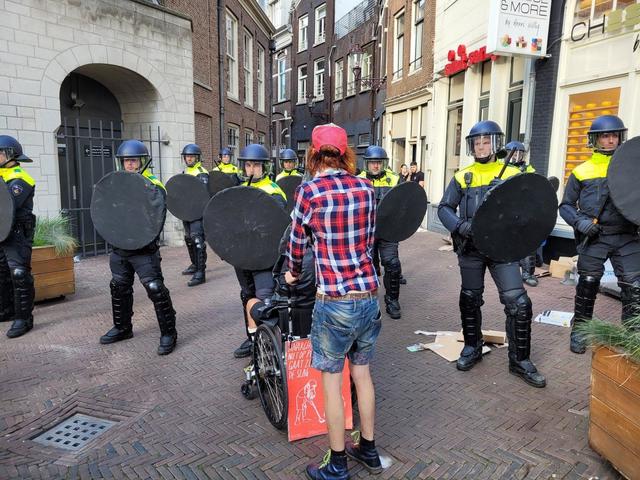 The buildings in Grevenstraat have been boarded up and have been empty for two years, according to the Amsterdam squatters' movement. The movement argues that "squatting is a more than legitimate way to combat the housing crisis. It is precisely on the day of the Housing Protest that we have to take matters into our own hands. Housing is a basic necessity of life and must be available to everyone. And if we don't get it, we'll take it!"
It is unacceptable that in a time of housing shortage and rapidly increasing homelessness, 180,000 homes are still empty. Current housing policies put the right to property over the right to housing, by allowing vacancy and accepting homelessness. Squatting is an effective way to expose this absurd contradiction. The impression has been wrongly created that squatters cause nuisance or damage buildings. The opposite is true: squatters have an eye for their environment and the local community and contribute to maintenance and quality of life. We recently saw a good example of this in Rotterdam, where Rotterdam, among others, renovated a community center in the Havenstraat that had been empty for years for 14 years and opened it up to the neighborhood again.
Woonopstand declares its solidarity with the Amsterdam squatters' movement and we strongly condemn the violence used by the police. It cannot be the case that a legitimate action for the right to housing is violently crushed. In our opinion, police violence towards home seekers who are stuck is not a solution to this housing crisis.
Read here the original statement of the home claimants via Indymedia and the statement from Het Woonprotest.