National Residential Revolt demonstration on October 17 in Rotterdam: politics leaves millions of tenants, house hunters and residents out in the cold. 
On Sunday 17 October 14:00, the national Residential Revolt demonstration for a radically different housing policy will take place in the Afrikaanderpark in Rotterdam. The organization expects at least 10,000 people to attend. The urgency to demonstrate has only increased since the housing protest in Amsterdam on September 12. The outgoing cabinet does not take the housing crisis that affects so many in society seriously.
Housing for people, not for profit!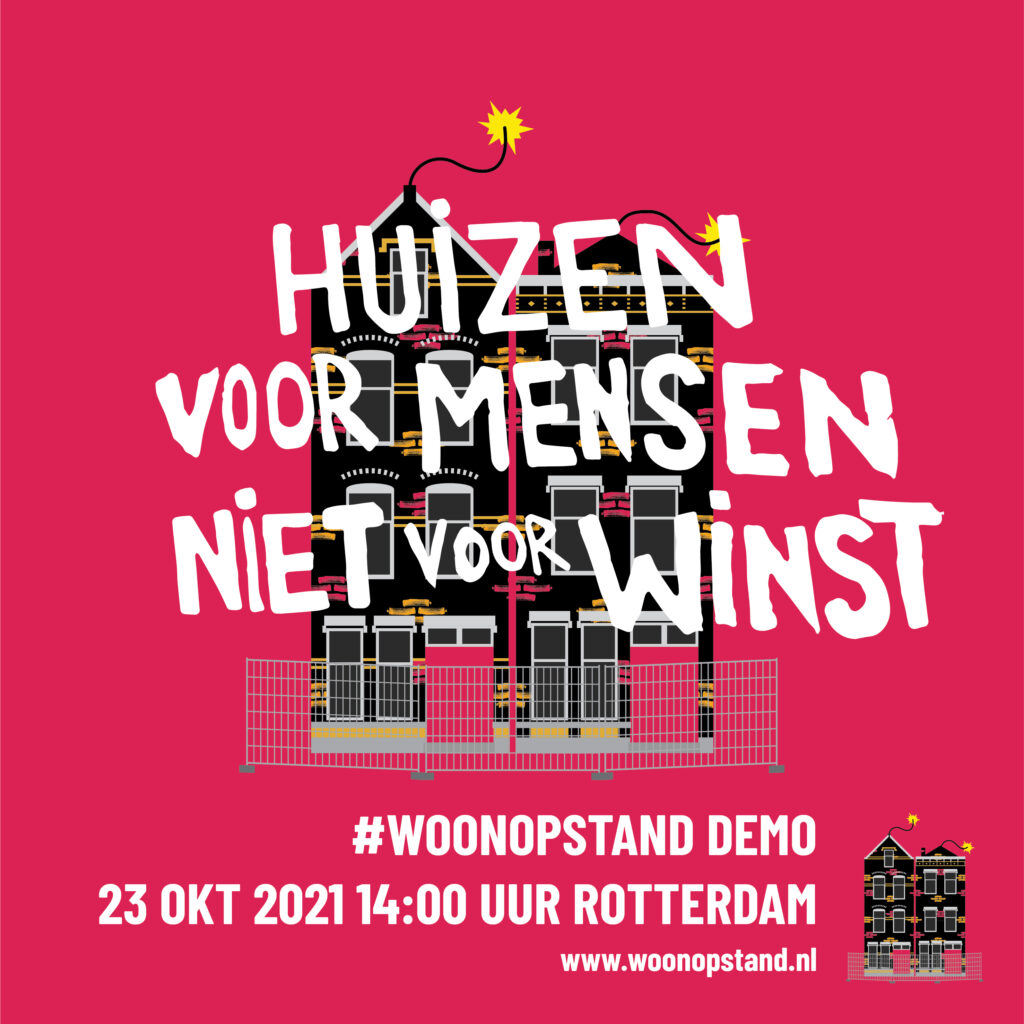 In recent decades, housing insecurity has also increased in the Netherlands. Homelessness has doubled and the housing shortage has exploded. Renting has been made more flexible and many people are forced to live temporarily, insecurely or too expensively. Social rental housing is sold, demolished and liberalized on a large scale. Social renting is marginalised, while the private rental sector is expensive and uncertain. Owner-occupied homes are also out of reach for many. Housing costs are rising. Evictions are on the rise. And the less wealthy are being pushed out of the city, while the middle incomes are also falling between two stools.
At the same time, investors and speculators are taking advantage: for them, housing is a commodity, real estate is the safest investment worldwide for those who want to make a profit. All this is the result of deliberate political policy. 
Politicians do not take housing crisis seriously. Actions rather than words.
In the past month there has been a lot of talk about the housing crisis in the House of Representatives and by the forming parties, but there is nothing to indicate that the right to housing will be high on the agenda of the next cabinet. During the general considerations, public housing only received a one-off tip of 500 million euros less landlord levy, while an annual investment of at least 4 billion euros is needed for new construction, maintenance and sustainability. There was no mention of abolishing tax breaks that drive up purchase prices and lead to huge inequality between buyers and tenants. After this debacle, the organizers of the national housing demonstrations went on October 5th in conversation with outgoing minister Ollongren, but she also showed no intention to implement the necessary fundamental changes in housing policy. We can't take this any longer, houses are for people, not for profit!
Housing is a right, not a favour. 
The Residential Revolt is organized by a broad coalition of action groups and civil society organizations who had already joined forces in the spring of 2020 for the international housing action day. This one would be on 28th of March to take place but was postponed due to the corona pandemic. Since then, solidarity groups from all over the Netherlands have been working together to radically change housing policy. More actions will follow throughout the country. "We will not rest until everyone has a dignified and affordable roof over their heads." 
On 17 October 14:00 there will be a fiery program with activists and protest music in the Afrikaanderpark in Rotterdam, followed by a march from 15:45 across the Erasmus Bridge, via the Coolsingel to the Markthal. Among the speakers are representatives of the referendum won in Berlin (Deutsche Wohnen & co Enteignen), Feminists Against Ableism, Carrie and We refuse the rent increase. 
Read more about practical information and accessibility here.
The Livestream of the #Woon uprising on October 17:
Images can be downloaded for free here: