Statement on the Rotterdam council committee debate of 4 November.
We are astonished at the progress of the
debate
that took place on November 4 about the police action during the Residential Revolt demonstration on October 17. Fifteen protesters spoke and shared their often emotional story about the absurd, reprehensible and violent police action. After many questions and few answers, police chief Westerbeke admitted that he does not have all the information and that mistakes may have been made. Nevertheless, Mayor Aboutaleb refuses to conduct an independent investigation. This is despite the fact that the respondents
Minister Grapperhaus
, the Netherlands Jurists Committee for Human Rights (NJCM), Woonbond, Bond Precaire Woonvorm, Recht op de Stad, Amnesty and others to do so. There is also a council motion that calls for this.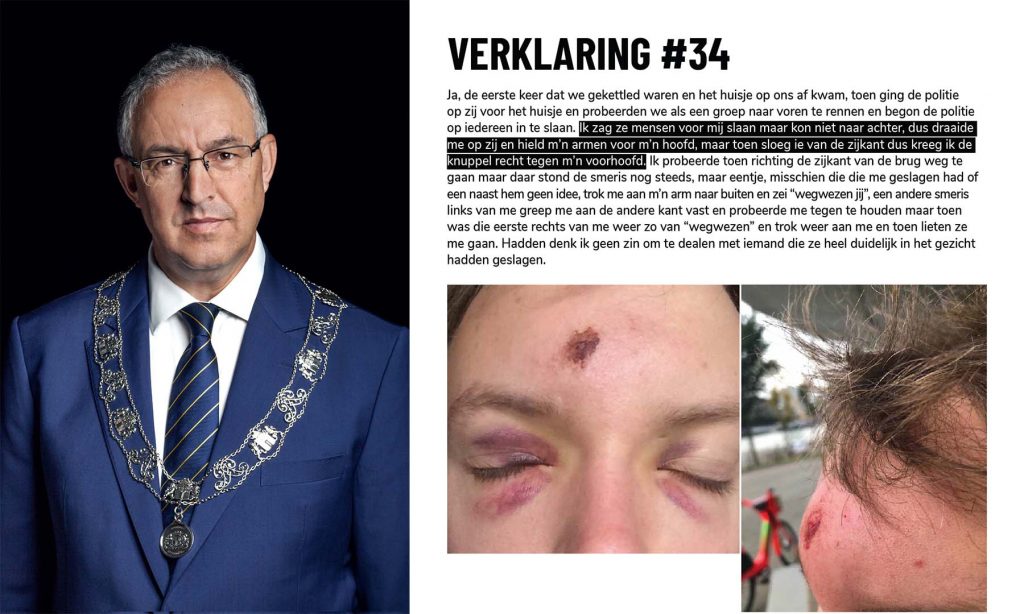 The physical and emotional suffering of victims has been completely ignored by the mayor after the demonstration. Four days after the demonstration on October 17, the own performance was approved with a letter unanswered by demonstrators and organisations. Then he approved that the police be active selective drone images spread. The mayor is busy with imaging, his own right and finds the truth difficult and unnecessary. If you have nothing to hide, then an independent investigation into the facts is not a bad thing, is it?
An external investigation is necessary because there has clearly been an excessive act and we do not get the facts when we enter into a conversation. Police chief Westerbeke recently stated: in the AD: "Honestly, we have found little in the end." […] "So you can say that it might have remained calm if we had not intervened". The facts have not emerged from the letter from the mayor, nor from the explanation of the police chief and the Public Prosecution Service. The police and Woonopstand (a volunteer organisation) are not equal parties in this either.
We are deeply disappointed in the political parties who propose that we enter into a fact-free mediation conversation and who do not understand that the right to demonstrate of thousands of citizens has been violated. An independent investigation serves a greater purpose, namely to guarantee the right to demonstrate in the future.
We have made every effort to clarify the problems before and during the demonstration, see us black book and us statement of 2 November. We told our story to councilors and the mayor on Thursday. We are clear in our statement about the issues that need to be investigated. A more detailed analysis of the council debate on 4 November will follow later.
We demand a independent external investigation into the excessive police action on 17 October. Only then will there be a basis for discussions and restoration of confidence that the right to demonstrate is in good hands with the Rotterdam city council and the police.