Prevent payment problems now and in the future with structural policy change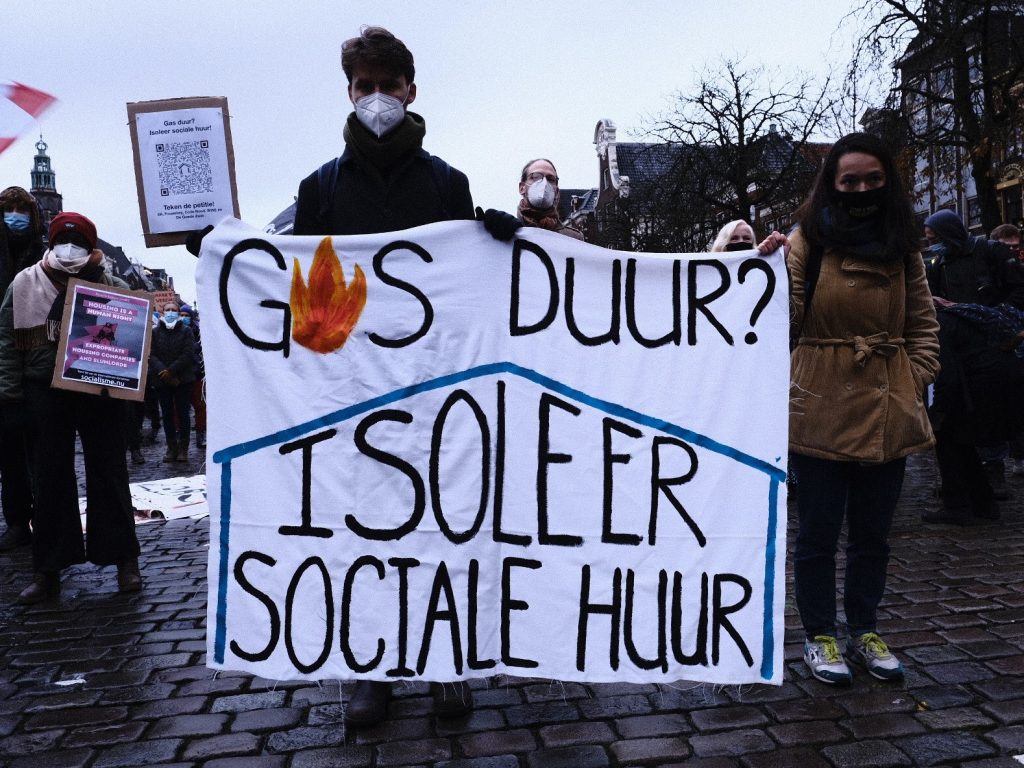 As a result of unprecedented inflation, rising energy and rental prices, and significantly more expensive groceries, a huge number of people are facing a tough winter. Sky-high utility bills threaten to push them into financial difficulties or debt. The affordability problems that many people have been experiencing for a long time are exacerbated by a decline in purchasing power such as we have not experienced in decades. This can no longer be the case. The water is not up to people's lips, but hundreds of thousands are now in danger of drowning. Decisive action must be taken now to prevent poverty and further damage to livelihoods. This does not require plastering afterwards, but a structural policy change to prevent damage beforehand and in the future.
That is why the national action coalition Woonopstand calls on this cabinet to take structural and emergency measures in the field of wealth inequality, purchasing power, sustainability and housing policy. Because the housing crisis, climate crisis and purchasing power crisis do not stand alone, but are inextricably linked.
An enormous number of Dutch households currently have difficulty paying for their basic necessities. The Nibud expected that due to the extremely high (energy) prices, one in three households, approximately 2.7 million, is struggling to make ends meet. In addition, Aedes, the umbrella organization for Dutch housing associations, has indicated that rent arrears have increased in the first six months of 2022: half of all housing associations notice that more tenants are asking for a payment or tailor-made arrangement for their rent. Inflation, rising energy prices, the war in Ukraine and the consequences of the corona crisis will only increase these payment problems further, with major social consequences. homelessness threatens to increase just like the number of people who call on the food bank or social assistance benefits. 
Purchasing power, income and wealth inequality
It is obvious that the consequences of the rapidly rising cost of living will not be felt equally by everyone. It is the households with a low and increasingly middle income, and without large buffers in their bank account, that will run into problems first. The current payment problems and purchasing power crisis cannot be seen in isolation from the increasing wealth inequality in the Netherlands. The strongest shoulders don't carry the heaviest loads right now. From new calculations of the Central Planning Bureau in collaboration with the Central Bureau of Statistics, it appears that the richest Dutch people pay a lot less tax than had hitherto been assumed. The richest 0.01 percent of the Netherlands spends only 21 percent of her income on taxes, while this is 40 percent for middle and high incomes. Rather than sharing the burden of economic hardship, the current tax system only promotes wealth inequality. In order for the strongest shoulders to actually carry the heaviest, a thorough reform of our tax system is necessary. 
Housing, sustainability, and energy poverty
Tackling the payment problems associated with energy costs and preventing energy poverty requires a structural solution, which partly lies in making homes more sustainable and insulating more quickly. Residents of outdated and poorly insulated homes will be hit even harder this winter by rising energy prices. Measures to prevent payment problems are necessary, but must go hand in hand with accelerating the sustainability and insulation of homes in order to prevent people from paying unnecessarily high bills in the future. Neither people nor the climate can wait for performance agreements and policy programs that are too slow.
The current crisis situation calls for rapid and far-reaching measures that go beyond the temporary and retrospective relief of financial difficulties.
An increase in (minimum) wages and the associated benefits and AOW

A price ceiling for energy prices

A multi-year rent freeze and rent reduction for homes with poor energy labels (D, E, F, G)

Structural investments in public housing and faster sustainability and insulation of homes 

A moratorium on evictions due to rent debt, payment arrears and flex contracts

A stop on the sale, demolition and liberalization of social rental homes

 W

wage policy that uses the right to decent housing as its goal and starting point

Total abolition of the cost-sharing standard

Broad investment in financial assistance from prevention to aftercare
These measures can be financed by:
structurally increase the tax on wealth

raise corporate income taxes

raise the top income tax rate

the abolition of the annual billion-dollar subsidy to the polluting industry

tax the rental income in box I

capital transfers, such as business successions, inheritances and gifts, to be taxed more heavily

a tough approach to tax avoidance and evasion
Social unrest is growing in the Netherlands and if strong measures are not taken, it will only increase further. The national action coalition Woonopstand will announce massive actions if the cabinet does not take appropriate measures to guarantee housing and livelihood security. We hope that this cabinet will take the proposed measures and that it will not have to come to that.
Housing protest
Residential riot Haarlem
Amersfoort housing revolt
Wij Weigeren de Huurverhoging
WWDH South Holland
WWDH Flevoland
ASEED Europe
Bond Precaire Woonvormen
Tenant interests Oldambt
Socialists010
Right to the city
Rotterdam BIJ1
Extinction Rebellion Haarlem
SP Veenendaal
Veenen residential demonstration