REPOST FROM BREAKTHROUGH – The demo against police brutality is not an initiative from Woonopstand, but a broad coalition against police brutality.
On Sunday 17 October we revolted against the housing policy in Rotterdam. A peaceful protest in which some 8,000 people took part. A protest that was brutally disrupted by the Rotterdam police on the Erasmus Bridge. Next Thursday, November 4, the Rotterdam city council will debate this one-sided and brutal police brutality. The violence on the Erasmus Bridge is yet another addition to the endless list of scandals at the Rotterdam police force.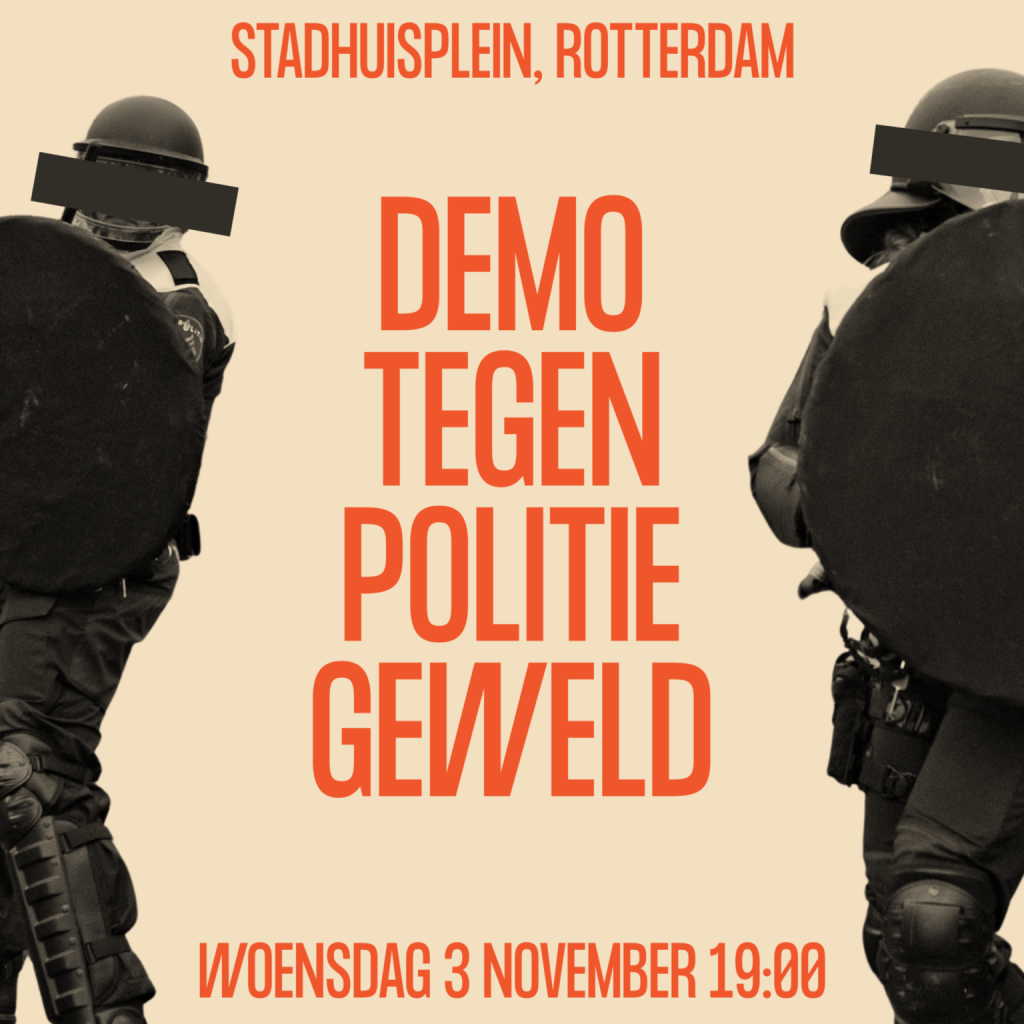 The College of Mayor and Aldermen has since sent a letter about this action. In it they choose to justify the violence and to deny the structural problems that play a role in the Rotterdam police for the umpteenth time. If Mayor Aboutaleb thinks this is the end of the matter, then he is wrong. If he doesn't take political responsibility of his own accord, then we must encourage him to do so.
On Wednesday evening 3 November, the evening before the debate, we are therefore organizing a protest against police brutality at the City Hall. Against the rotten culture of racism and violence within the Rotterdam police force. Against the unconditional hand held over their heads by Mayor Aboutaleb. The mayor who was elected last month by a club as so-called 'the best mayor in the world'. But for many Rotterdammers he is something else: the most violent mayor of the Netherlands.
Let it be clear for once: police brutality is political violence. Too often we see police brutality targeting marginalized groups, people of color and people with specific political beliefs. The excessive, unprovoked and unacceptable police violence on the Erasmus Bridge was therefore not an isolated event. This fits into a long-running pattern of police misconduct: violence, racism, sexism and sexual harassment, mistreatment of dogs and horses, ethnic profiling, a toxic culture of protection, and a fundamental rot in the entire institution called police.
For many people (especially people of color) the police themselves are a bigger threat than the crime they pretend to fight. The judge has already condemned this kind of behavior several times and yet the mayor does not seem to realize the seriousness of it. On the contrary: the violence and the rot in the Rotterdam police force only seem to increase.
It is time for that to change. We demand that we can live and demonstrate safely in our city.
Wednesday evening we will be standing in front of the City Hall in Rotterdam from 19:00 to show our peaceful resistance to police brutality and to reclaim our right to peacefully demonstrate. Thursday morning we will continue our protest at 10:00 am during the municipal debate to make our voices heard. More information follows.